Home
PentaZip: IT'S MORE THAN JUST A ZIP PROGRAM®

Version 16.1 is here! PentaWare, Inc. is pleased to announce the availability of the latest version ...

Welcome to the new Pentaware Site! We update the approach to give you a new user experience. T ...

PentaZip is our latest release of our award winning File Compression program. It offers a unique range of features to help you store, manage, view, protect and share your files, including CD/DVD burning, File Management on Cloud Folders and FTP.
Download Trial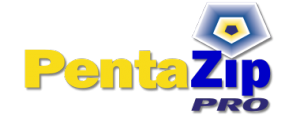 PentaZip-PRO is the advanced version of our successful Compression program PentaZip to which we added powerful PDF Creation and PDF Editing! The PDF feature is called PentaPDF-PRO.
Create new PDF or PDF/A files, digitally sign and encrypt or redact PDF's, render PDF files uneditable. PDF/A conversion, page numbering, insertion and removal of images are just some of the PDF features available in PentaZip-PRO
Download Trial

Many of our corporate and business users have requested dedicated "Server" versions of our products to take advantage of the greater processing power that certain servers have to offer. Designed with speed in mind, our Server versions are all based on multi-threading technology.
Server Editions are for:
PentaZip
PentaZip Pro
PentaSuite-PRO
Ask For a Trial